I have not seen much information on this forum regarding Angle of Engagement and I just wanted to share a method that I have been using and have had good luck with.
What is Angle of Engagement?
Angle of Engagement (AOE) is the angle at which the first tooth on the sector gear engages the catch tooth on the piston. Properly adjusted AOE will help ensure the correct meshing between teeth on the sector gear & piston. Angle of Engagement is an important factor in every AEG and even more crucial in high rate of fire guns. It will help prolong the life of your piston.
Uncorrected
AOE looks like the following. Tooth faces are not parallel and when this happens, the error is translated to the remaining teeth. In other words, if the first teeth do not mesh properly, it can cause problems with the rest.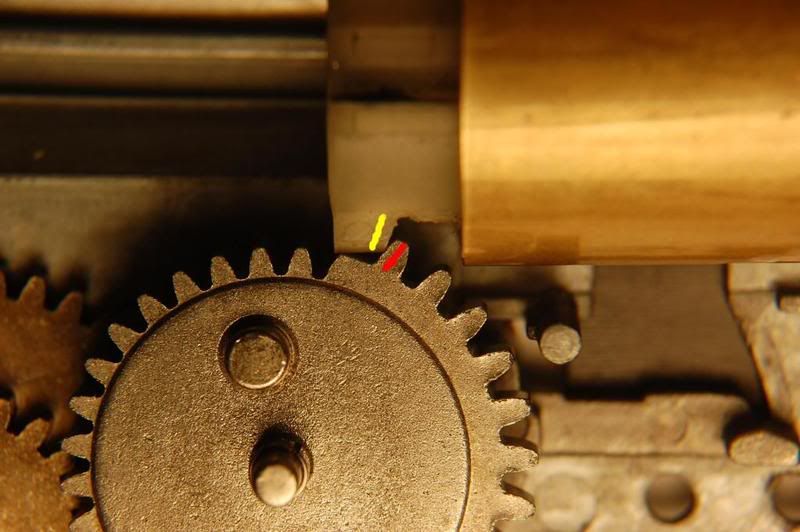 Correct
AOE should look similar to the following. Notice how the tooth face on the sector gear (Red line) is parallel to the face of the catch tooth on the piston (yellow Line).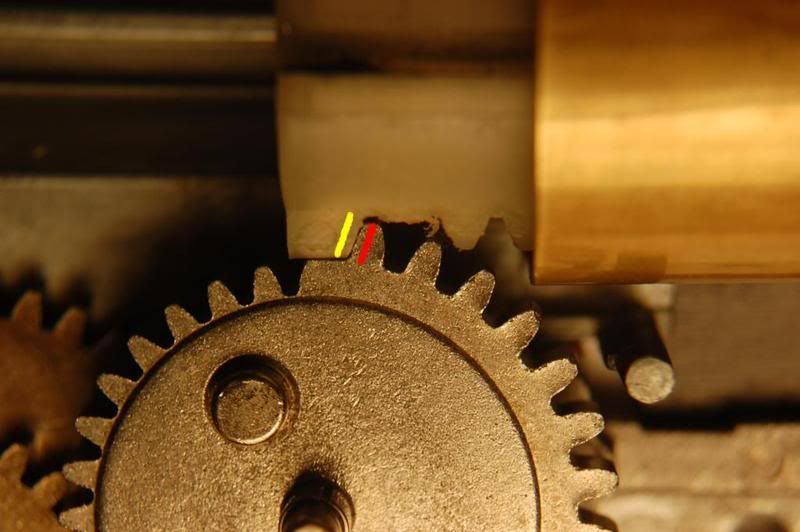 When covering AOE, it is also important to address Premature Engagement. This occurs when the first tooth on the sector gear engages the 1st, 2nd, or even the 3rd tooth on the piston BEFORE it engages the catch tooth. In the picture below, I have already removed the first piston tooth to help eliminate Premature Engagement, but for the purpose of this explanation, you can see where the 2nd piston tooth engages the sector gear before the catch tooth. To fix Premature Engagement, simply remove any piston teeth that interfere with engagement of the catch tooth.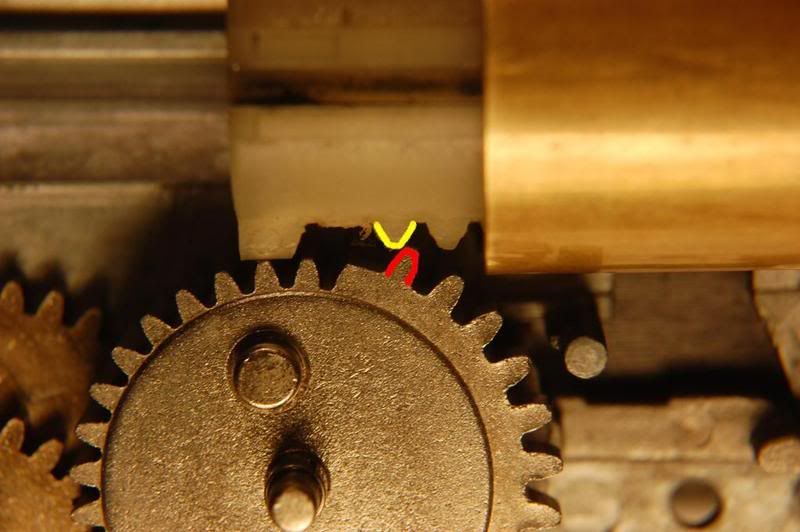 Pictured below is an example of a damaged piston that was most likely caused by poor AOE, Premature Engagement, or a combination of both.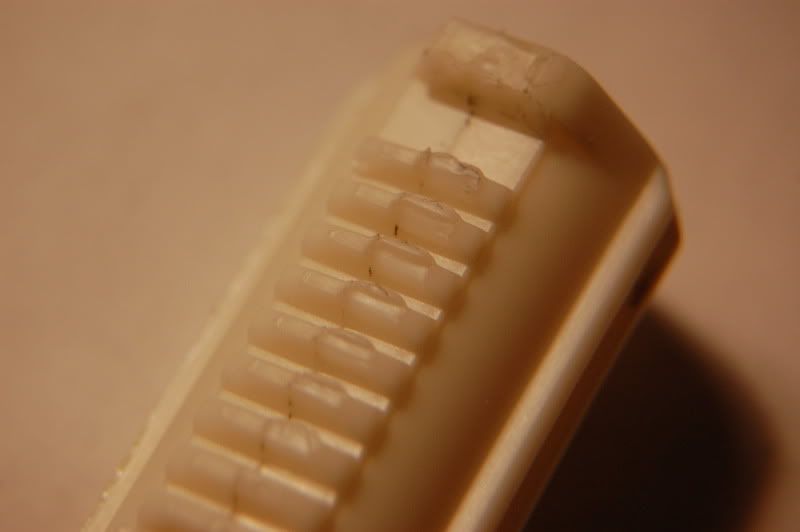 How to correct Angle of Engagement:
Installing Sorbo to Correct AOE:
What is sorbo? Sorbothane rubber is basically a cushion that is applied to your cylinder head. It has greater absorption properties in terms of shock transfer then the stock damper pads already installed. It helps cushion the impact and reduce shock from the piston slamming into the cylinder head. In my opinion, it significantly increases the life of your gearbox. Sorbothane comes in a variety thicknesses as well as hardness. If you have the ability to cut it on your own, it's rather inexpensive to buy sheets of sorbothane in bulk from McMaster Carr. If you only need a few pads and don't want to mess around with cutting it, you can purchase precut sorbo pads for just about every gearbox from sorbopads.com
Installing a sorbo pad is my preferred method for correcting AOE. Here is the installation process I use.
Pictured is a cylinder head with a stock damper pad. In the next step, we will be removing this pad in preparation for installing the new sorbo pad. I have had people tell me there is no point to remove the stock pad only to replace it with it with a similar
looking
sorbo pad. As with my other guides and contributions to this forum, I am simply sharing ideas which have given me success. I have cracked gearboxes in the past and since incorporating sorbo, knock on wood; I have yet to break a gearbox. I am not saying your gearbox won't break, but in theory, it should greatly reduce the chances of it failing. If you do not feel this to be necessary, don't do it.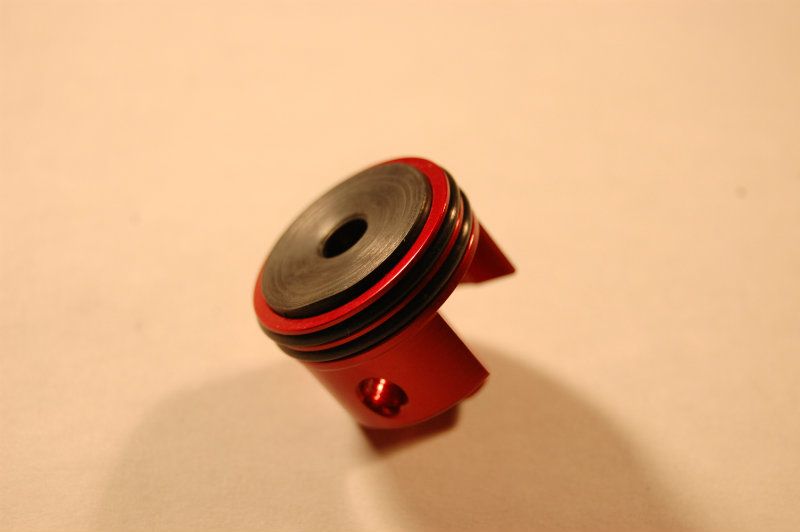 Now remove the existing damper and scrape away old glue and debris.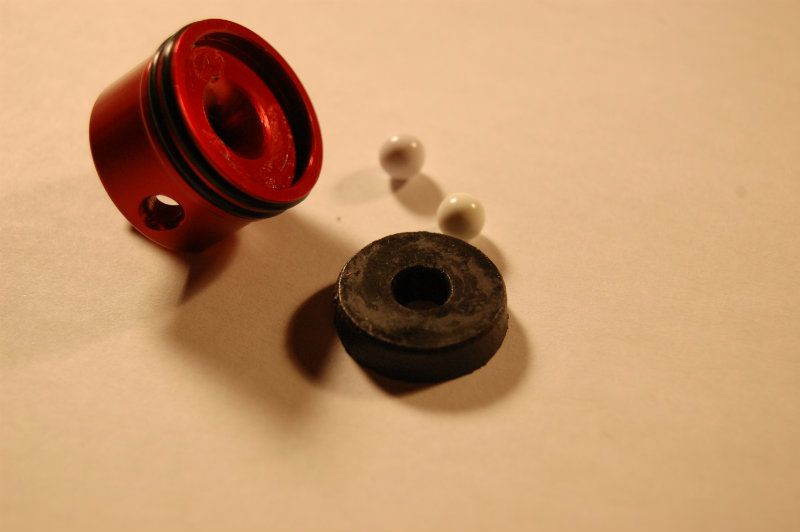 Your sorbo pad must be able to withstand numerous impacts from the piston. Often if you are using a ported piston head, the ports within the head can shred the sorbothane and cause it to crumble. It's highly recommended to glue a neoprene washer to the face of your sorbo pad to help maintain it's integrity. I buy 1/16" neoprene washers from Ace Hardware or you can also find them on sorbopads.com
I can be a little OCD at times and even though you will never see it, I use a ¾" leather punch to neatly cut the neoprene washer to match the diameter of the sorbo. Like I said, this is personal preference for visual appearance….the neoprene can easily be cut with a pair of scissors.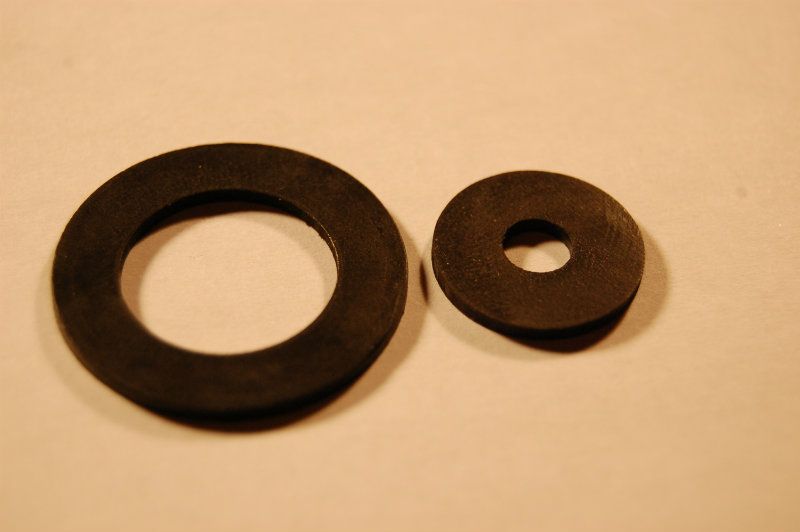 Next we will glue the neoprene washer to the sorbo pad. It's also recommened to use a high quality Cyanoacrylate (aka super glue) for bonding these surfaces. Hobby stores have a good selection of high strength adhesives that work very well. Apply a thin layer of glue to each surface and press them together. Pay attention to any access glue, and try to avoid getting any on your fingers….it's some strong shi*!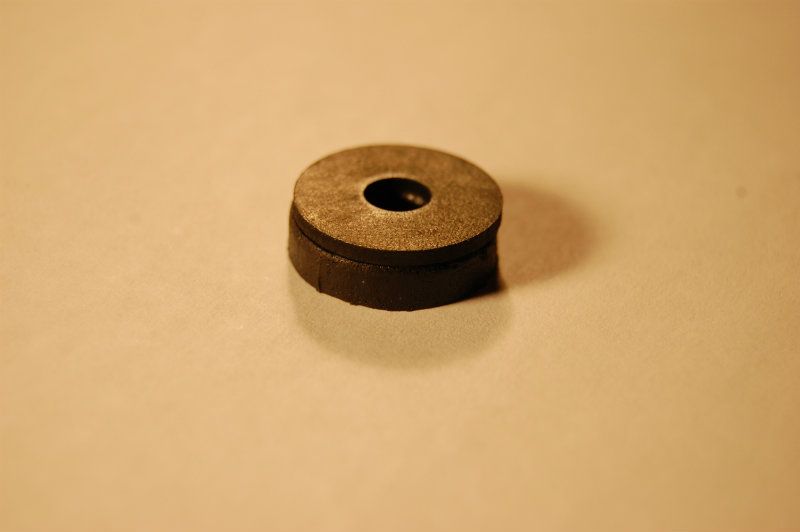 Now it's time to prep the surface of the cylinder head. Once all of the old glue is removed, I like to use a utility knife and gently scratch the surface of the CH followed by a light sanding to remove any metal shavings (if you are using an aluminum CH). Then use a degreaser such as Simple Green to clean away all grease and oil from the cylinder head. Thoroughly rinse with water and dry. As before, apply a thin layer of glue to both the cylinder head and sorbo pad. I also like to let the glue cure overnight before installing the components into my gun.
*DISCLAIMER* The only issues I have ever had with the glue bonding to the cylinder head was when I tried gluing it to a non painted stainless steel Modify cylinder head. For some reason it would not stick…the bond would break and the sorbo would fall off within 5 trigger pulls. I use the cylinder head that is pictured in this guide in my personal 50+ rps DSG and after 15,000 rounds there have been zero issues. I don't know if the paint has a positive effect or if it was something else….but it would not stick to bare stainless steel. I have never had a problem gluing to a plastic cylinder head either.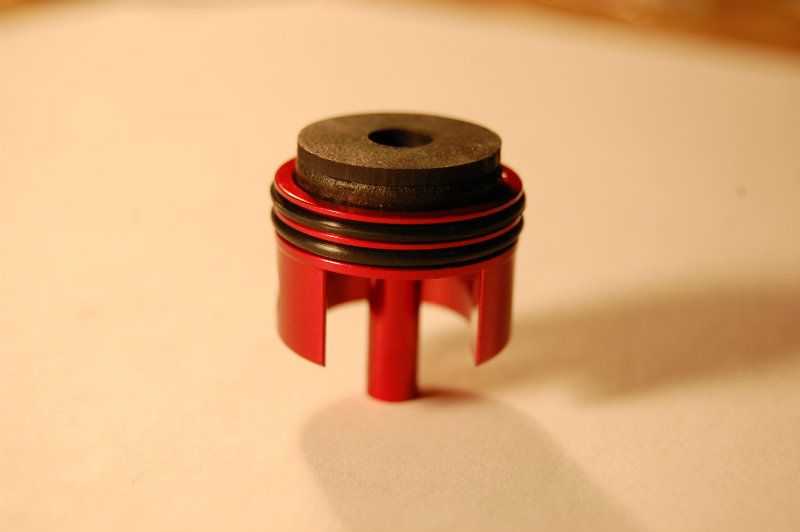 I always buy the 3/16" 70 duro (duro being it's hardness) sorbothane. Once the neoprene washer is applied to the sorbo, it totals ¼" in thickness. There are really only two options when it comes to hardness of the sorbo pad….70 & 40. The softer being 40 is said to be used on guns shooting below 400 FPS and 70 duro is for guns above 400. I have always used the 70 duro no matter what the output is. For me, installing sorbo has corrected my AOE 95% of the time .
Another option for correcting AOE is done by using fiber washers to shim the piston head. Fiber washers look like this and can be found at any hardware store. They are lightweight and rather durable.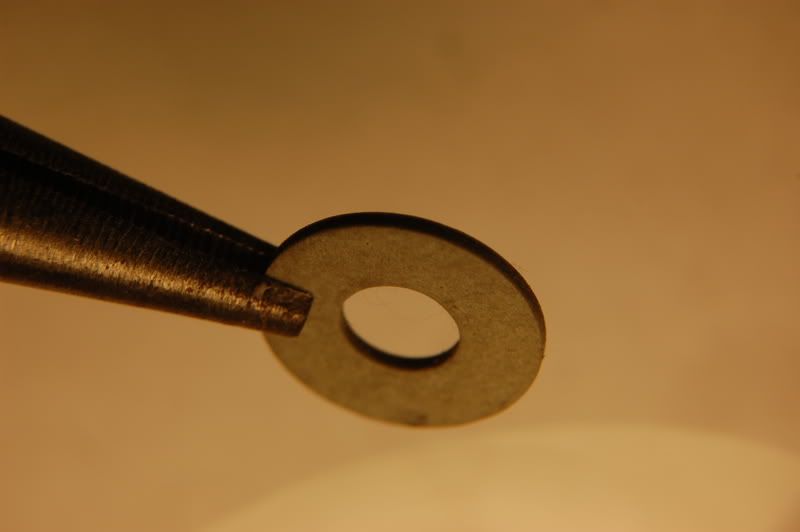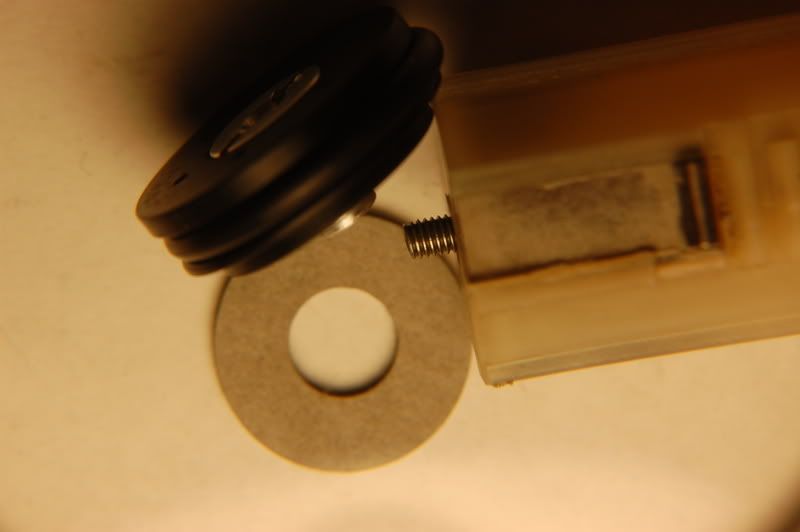 All you do is place the fiber washer(s) between the piston head and piston. This pushes the piston further back and should be done until the gear faces are parallel to each other, like pictured above. Here is a picture of what the fiber washer looks like when installed in the piston assembly.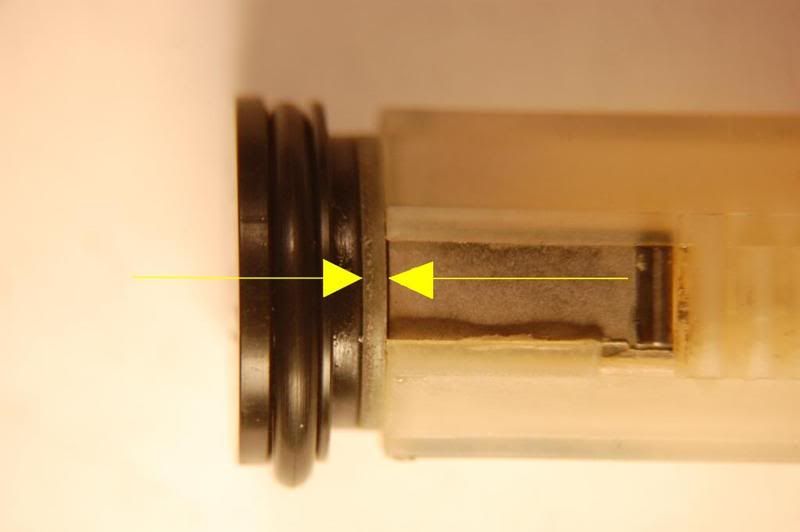 And that is about it. I am sure my writing was confusing, but I hope the pictures helped eliminate some of the confusion. I hope that helps!