Moderators: THE ARCHANGEL, Guges Mk3
---
Dude, I love some of the projects you have done.... they are just totally over the top and it's amazing!
Task Force Echelon - Click and like our facebook page!
OP IRENE X - T.F. Ranger - Charlie Company 1-3 Medic
OP IRENE XI - Somali Freedom Fighters 3-1 Medic
TCA Giant Airsoft Game I & II - Midwest Alliance General
---
That blunderbuss would have been perfect at our pirate games we used to have at Ripley.
MAA Membership Officer
I was born to be a pessimist... my blood type is "B-Negative"
MAA Member #111
Team
BANGARANG!
---
---
Parts
AIP Disc. & Valve Knocker
AIP Hop-Up Base
AIP Spring Plug Set
Angel Custom Shock Buffer
ASMasterpiece Frame
ASMasterpiece Limcat Slide
ASMasterpiece Grip Safety
ASMasterpiece Thumb Safety
ASMasterpiece Slide Stop
ASMasterpiece Mag Catch
ASMasterpiece Front Sight
ASMasterpiece Hop-Up Spring
HKRC Magazine Base
HKRC Hammer Protection Pad
Maple Leaf ESD Valve
Maple Leaf Hop-Up Wheel
Maple Leaf 70 Deg. Bucking
Maple Leaf I-Key
Nine Ball Grip
Nine Ball 6.00mm Inner Barrel
NOVA Hammer
NOVA Hammer Strut
Pro-Win 140mm IPSC Magazine
UAC Fluted Outer Barrel
UAC Aluminum Nozzle
UAC Stainless Trigger
UAC ULW Rear Sight
UAC ULW Blowback Housing
UAC Stainless Thumb Rest
UAC Aluminum Valve Block
UAC Fiber Optic Rear Sight
UAC Sear Spring
UAC Recoil Spring
UAC 125% Nozzle Spring
---
KJW KC-02 (10/22)
still have a couple internal upgrades to put in but fitting the stock was a chore in itself...
P* G&P M4 with 4 uppers to not be able to choose from. G&P AEG backup on bottom
Pistoles
MAA Member #105
I... am...
Ironman
... rih nuh nih nuh nih na nah naah naaah
Team
BANGARANG!
---
Not all of them but here are some of my favorites.
G&P that I threw ridiculous stuff onto that make no sense for the length of the rifle but just ended up loving the way it looked. Not normally how I would use it in a game though.
VFC SCAR L with madbull rail extention
G&G MP5...with a SCAR H mock suppressor...because reasons
KWA MP7 that I need to find a low power bolt for so I can actually use it.
Marushin M1 Carbine
And then the new hotness, because I aparently hate having money. TM AA12
Combat Airsoft Sponsored player 2009-2013

Member of Task Force Echelon
---
MAA Member
Posts: 848
Joined: Thu Aug 12, 2004 3:01 am
Location: Minneapolis, MN
Contact: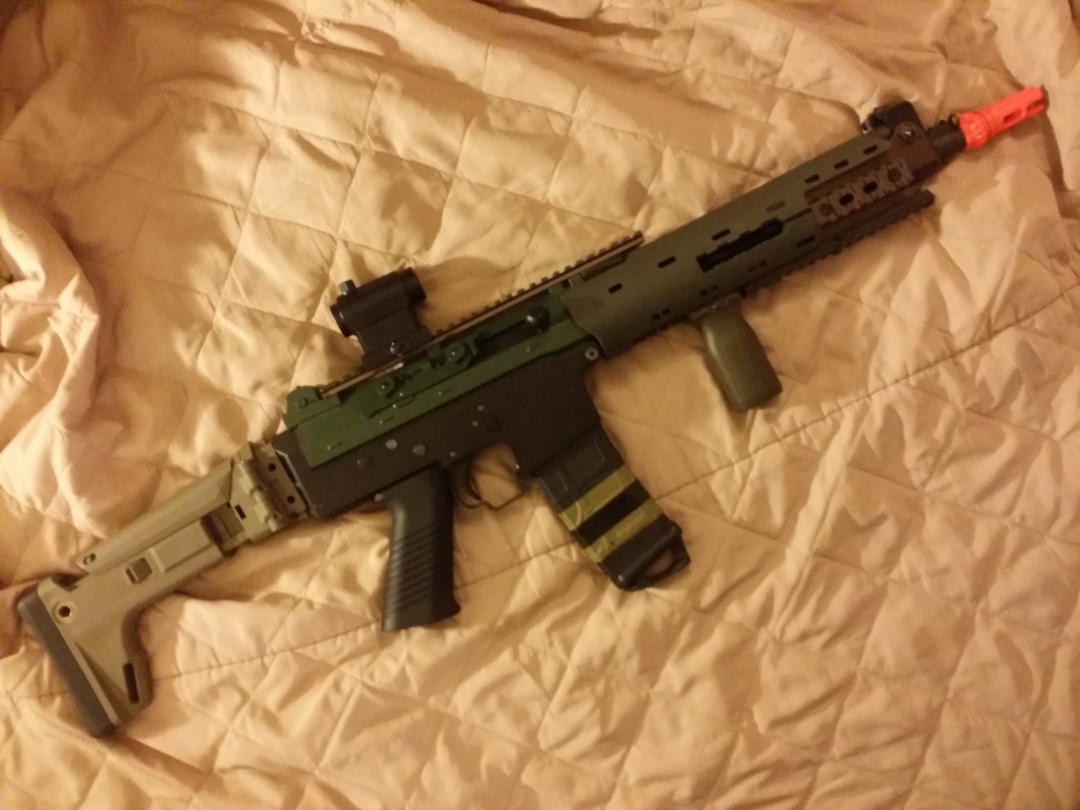 I did a thing. I need to make a real stock adapter for the ACR stock, It currently mounts solid but looks ugly. One big gripe I had is that most optics are meant for M4's and with the AK5c's original stock is not an inline stock so optics are really high up, you have to use a chin weld. The ACR stock it brings it up so most optics I can have a real cheek weld. I used a FNC lower because G&G royally messed up on the fire selector on the original gun. G&G makes some good stuff and comes out with some real original ideas, but never supports them. I'm still waiting on that RK95 mount.
MAA Member #103
BATC RSL class 10-11
BATC Grad class 05-10
Gunfighter Level 1
T5.11TBT
---
E&L AKM with TAG-015.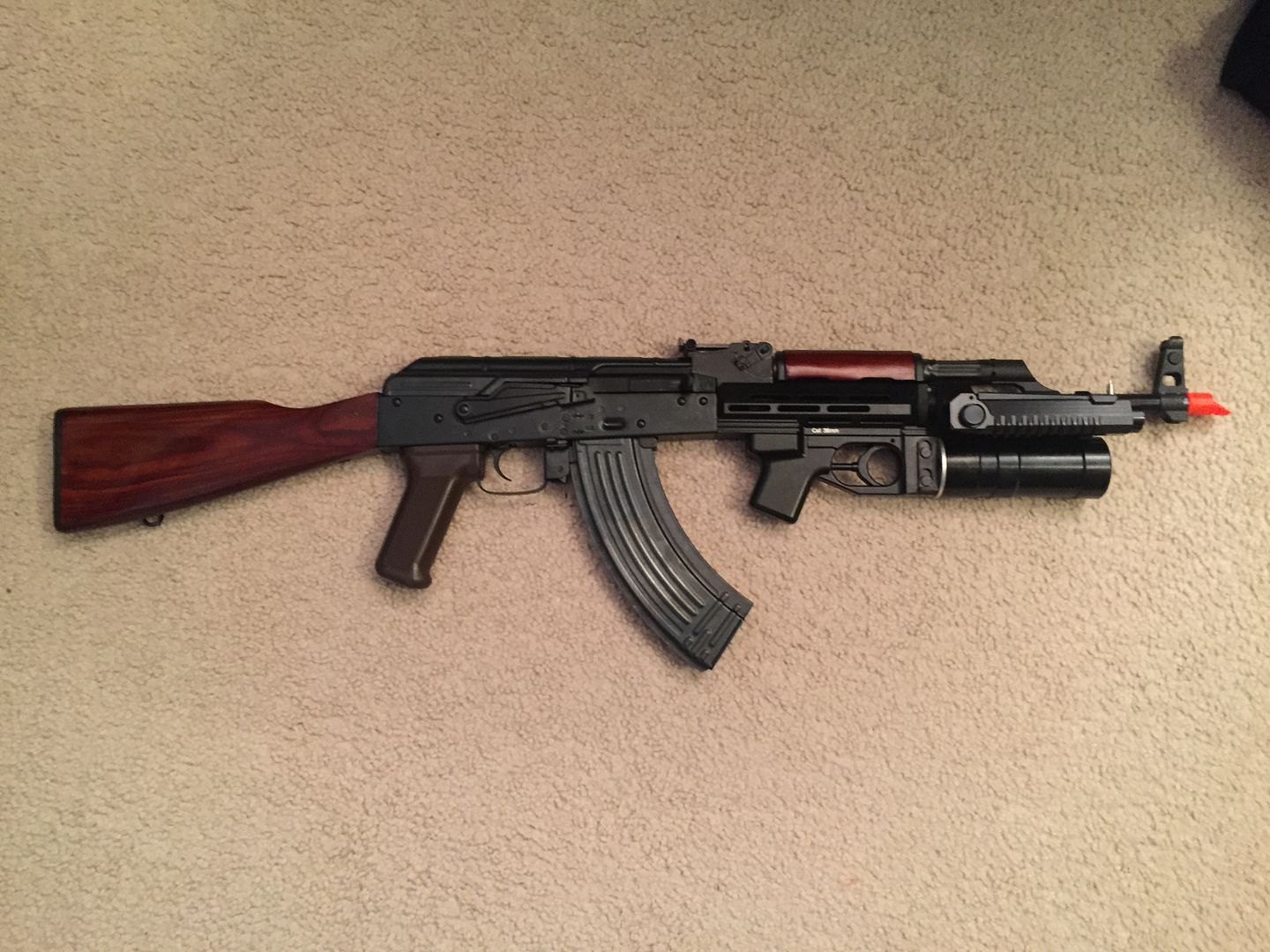 MAA Member #92
---
You say Halo i say Killzone
Base gun is an A&K Lr300 jazzed up to look like the Killzone M82
Snoipins a gud jawb m8.
---
Pewpew
JG 614 Full stock
S&T TAR 21 metal gearbox
VFC UMP GBB
KWA USP
WE 1911
My youtube channel is
ArbiterAirsoft
---
Almost A Regular
Posts: 67
Joined: Mon Mar 25, 2013 9:55 am
Location: monticello
Sent from my XT1565 using Tapatalk
your gun is as unique as you make it
---
Who is online
Users browsing this forum: No registered users and 1 guest